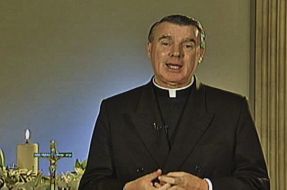 There seems to be a dearth of updated information regarding serious accusations against the Legion of Christ's #1 priest in Chile. The info below is from Dec 2012. [automatic translation]
The first accusation is followed by a second from another daughter of the same family.
Fr. O'Reilly faces new sex abuse allegation
Thursday December 13, 2012 | 16:14
Picture: John O'Reilly | RBB Archive
RELATED NEWS
The prosecution revealed a new accusation of alleged sexual abuse against Father John O'Reilly, right after the priest declared that he "never" had approaches with minors.
At 13:00 pm on Thursday began taking evidence in the 4th Court of Guarantee of Santiago, where O'Reilly gave his version of the alleged sexual abuse against a minor in the College Summit.
The right to the statement was a request made by the defense attorney, Luis Hermosilla, as indicated by the requirement responds to that for five months the prosecutor Ignacio Pinto has refused to hear the testimony of the clergy.
"I never had approaches" of a sexual nature with the least who was then six years, said the cleric, adding that working with the school performed it in a room with windows.
the Attorney East reacted immediately confirming that a new indictment involving the girl's sister complainant, becoming a second alleged victim of priest.
For his part, the complainant family lawyer, Jose Ignacio Escobar, expressed harsh criticism of the canonical investigation that leads the Catholic Church, because in his view has not advanced at all.